Unveiling the Thrilling Land Rover Defender Experience at Ray Catena Land Rover Edison
Are you a true adventurer at heart? Do you dream of conquering both urban streets and off-road trails with equal finesse? Look no further than Ray Catena Land Rover Edison, your premier destination to explore the remarkable Land Rover Defender. Whether you're a Staten Island local or a nearby neighbor, we're your gateway to an unforgettable automotive journey.
1. Rediscover Legendary Heritage:
At Ray Catena Land Rover Edison, we celebrate the heritage of the Land Rover Defender. This iconic SUV has stood the test of time, earning a reputation for exceptional durability, off-road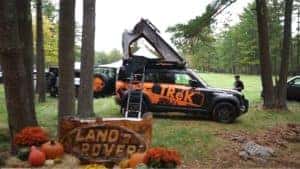 prowess, and timeless design. As a testament to its legacy, the new Land Rover Defender seamlessly blends modern technology with its classic design, making it an embodiment of rugged sophistication.
2. Expertise and Guidance:
Our dealership isn't just a place to purchase a vehicle; it's a hub of expertise and guidance. Our dedicated team at Ray Catena Land Rover Edison possesses an in-depth understanding of the Land Rover Defender's features, capabilities, and customization options. We're committed to tailoring your Defender experience to match your unique preferences and requirements, ensuring that you drive away with the perfect vehicle for your lifestyle.
3. Unparalleled Test Drive Experience:
A test drive is more than just a ride; it's an opportunity to immerse yourself in the Land Rover Defender's capabilities. Our dealership's strategic location in Edison ensures that you can experience both urban driving and suburban exploration, providing a well-rounded test drive experience. Feel the Defender's power, precision, and versatility as you navigate local streets and highways.
4. Staten Island Connection:
For our friends in Staten Island, we're just a short drive away. Whether you're seeking a vehicle that can conquer city streets or you're planning to escape the hustle and bustle for weekend adventures, the Land Rover Defender is your ideal companion. Explore the Verrazzano-Narrows Bridge and witness firsthand how the Defender seamlessly transitions from urban to off-road environments.
5. Exclusive Dealership Benefits:
Choosing Ray Catena Land Rover Edison grants you access to exclusive benefits. Our dealership offers competitive financing options, exceptional customer service, exclusive events and a
commitment to ensuring your ownership experience is nothing short of exceptional. Our service center is staffed with trained technicians who understand the intricacies of the Defender, ensuring your vehicle remains in peak condition for years to come.
6. Community and Adventure:
At Ray Catena Land Rover Edison, we're not just selling cars; we're building a community of enthusiasts who appreciate the art of exploration. Join us for events, workshops, and gatherings that celebrate the spirit of adventure. Connect with fellow Defender enthusiasts and share your tales of conquering both urban jungles and untamed terrains.
In conclusion, the Land Rover Defender is more than just an SUV; it's an embodiment of exploration, capability, and heritage. At Ray Catena Land Rover Edison, we invite you to embark on a journey to discover the Defender's allure for yourself. Whether you're a local looking to enhance your driving experience or a Staten Island resident seeking the perfect companion for your adventures, our dealership is your ultimate destination. Book your Land Rover Defender test drive today and uncover the magic that awaits you.
Visit us at Ray Catena Land Rover Edison, where the Land Rover Defender experience begins. Adventure is calling – will you answer?