Land Rover Surround Camera System
Features of the Available Land Rover Surround Camera System
Did you know many new Land Rover vehicles and some pre-owned Land Rover vehicles have an available Surround Camera System to help maneuvering?
This driving aid uses four digital cameras discreetly placed around the vehicle, providing a 360 degree overhead view on the Touchscreen. The capacity to display several different views at the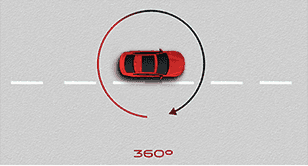 same time helps with various maneuvers* from parking by a curb, to getting in and out of tight spaces. The integrated cameras also provide assistance when towing.
An available Surround Camera System with four cameras that combine to give 360 degree view of the area around the car to aid in maneuvering*
Additionally, the 360 degree Parking Aid supports maneuvering by employing sensors around the vehicle that automatically trigger when Reverse is selected or can be manually activated. When maneuvering, visual graphics and audio feedback indicate proximity to obstacles.
How to Set up Your Land Rover Surround Camera System
In order to get full benefits from this driver assistance package, customers will need to know how to access settings for both the Surround Camera and the 360 degree Parking Aid.
If you wish to have this feature turn on automatically when performing a parking maneuver drivers need to make a selection in the settings. First, select "camera" from the Touchscreen to call up Surround Camera. Then the Camera settings pop up is displayed. From there, the customer is able to select Default Camera View and then add 360 degree Camera as a default view.
New Land Rover InventoryContact Ray Catena Land Rover Edison