Oil Change near Edison NJ

As you're cruising the streets of Edison, you may notice the oil change indicator on your dashboard. Perhaps you've heard sounds of distress in your engine. Maybe you've even checked your maintenance schedule. In any case, it's time for an oil change near Edison, NJ.
For oil changes and more, the service center at Ray Catena Land Rover of Edison can help you out. We're experts when it comes to engine maintenance, and we'll help keep your engine oil fresh!
Schedule your Oil Change online here!
Top-Tier Oil Change Service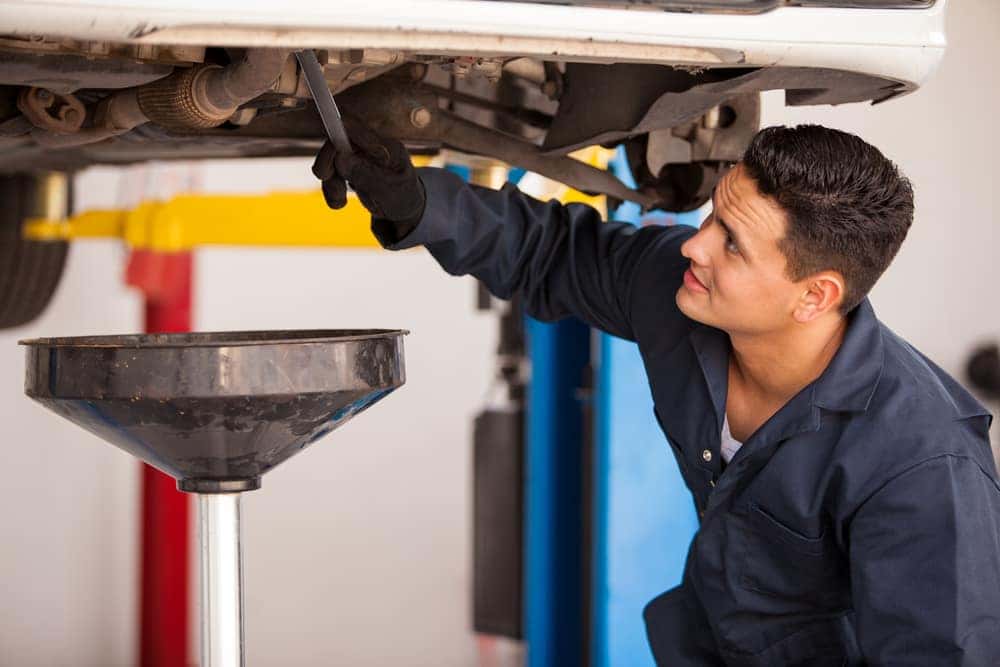 Why choose our service center for your next oil change? Our technicians are certified and factory-trained to perform oil changes quickly, efficiently, and effectively. No matter the make and model of your vehicle, we'll change the oil and filter, keeping your engine a true "well-oiled machine."
Oil changes at our dealership typically take between 15 and 30 minutes. It's a straightforward process, by which we drain your old oil, change the oil filter, and replenish your oil reservoir. Whether your car uses synthetic or conventional engine oil, we'll get the right stuff in your engine.
Most vehicles need their oil changed every 5,000 to 7,500 miles or 6 to 12 months. Don't miss your next scheduled oil change!
More Routine Maintenance
Oil changes are crucial, but your vehicle will need service beyond just them. Our service technicians can assist with all your routine auto maintenance needs. Come to us for your:
Tire rotations
Wheel alignments
Fluid level checks
Brake inspections
Windshield wiper replacements
Dashboard warning lights and strange sights, sounds, and smells coming from your vehicle shouldn't be ignored. If anything seems out of place, our team has the tools to get the bottom of it. We can perform a diagnostic on your vehicle's systems to root out a wide range of problems.
When you schedule oil change service at our Edison dealer, don't forget to browse our service coupons. You may find deals and discounts on oil changes and other critical services!

A Cruise through Edison NJ
With fresh oil in your reservoir, you can explore Edison with more confidence from behind the wheel! It's an interesting city with a long history to it. As you might suspect from the name, this Raritan Valley town was the onetime site of Thomas Edison's main laboratory in Menlo Park.
Today, you'll find the Thomas Edison Center in the park. It's a museum, complete with an Art Deco tower, dedicated to the inventor's creative exploits in the area. You can enjoy a fully guided tour and see some genuine artifacts from a long-distant past.
Oil Changes at Ray Catena Land Rover of Edison
If your vehicle is due for an oil change, it's best not to wait around. Schedule your oil change near Edison, NJ, at our service center. Our technicians will care for your car as if it were their very own. We'll have you in and out in no time when you choose oil change service at Ray Catena Land Rover of Edison!
Contact us online to schedule an oil change!