Land Rover Discovery MPG

The Land Rover Discovery is one luxury SUV worthy of its name. East Brunswick, Somerset, and Staten Island families can venture to new places in this versatile vehicle. In this article, we want to show you how fuel efficient this SUV is.
As we explore the Land Rover Discovery MPG figures, you'll see just how far this SUV can take you between stops at the pump. Learn more about its trailblazing Ingenium engines, too, courtesy of our team at Land Rover Edison!
Shop the new 2019 Land Rover Discovery here!
Land Rover Discovery Miles Per Gallon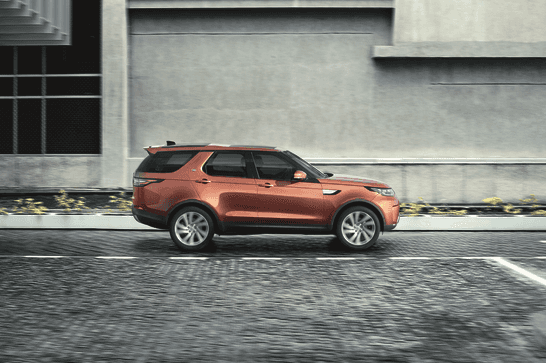 So, how fuel efficient is the Land Rover Discovery? This luxury vehicle can achieve an EPA-estimated fuel economy of up to 21 city/26 highway MPG at its best. You'll see these figures with the available 3.0L turbodiesel engine, which sips as little fuel as possible.
There's one other engine available in the Discovery. The 3.0L supercharged V6 trades fuel economy for horsepower, though it still puts up impressive numbers. With this engine equipped, you can expect up to 16 city/21 highway MPG, per EPA estimates.
Either way, you can minimize your visits to the gas station in this midsize luxury SUV. Next, we'll consider those Ingenium engines and what makes them so efficient!
Read the full 2019 Land Rover Discovery review here!
The Innovation Powering Ingenium
The Land Rover Discovery is powered by the Ingenium line. These engines are designed from the ground up to blend fuel economy with a smooth and potent performance.
Both gas and diesel engines have low internal friction and feature electronically controlled piston cooling jets. The latter feature improves efficiency in the oil pumping circuit, so you can go farther on one tank of fuel.
Another factor in the excellent fuel economy of the Discovery? Its state-of-the-art aluminum unibody. The structure is 1,000 pounds lighter than the previous generation, featuring the latest in materials and build technologies. It feels lighter on its feet (er, wheels) than ever before!
Outstanding Engine Specs & Capabilities
Fuel economy is important—but what can these engines do? The turbodiesel has plenty of torque on tap. In fact, you'll see 254 horsepower and 443 lb-ft of torque with this engine equipped. Acceleration is solid for the daily drive—you can get up to 60 MPH in just 7.7 seconds.
The supercharged V6 may be a bit less efficient, but it can get you up to speed even quicker. In as little as 6.9 seconds, you can reach speeds of 60 MPH. It's all thanks to the 340 horsepower and 332 lb-ft of torque this engine has on tap.
With the V6, you can also top out this luxury vehicle's towing capacity. Hitch up the family boat—you can tow up to 8,201 pounds test this engine's might!
Explore the Land Rover Discovery Today
The Land Rover Discovery is an innovative luxury SUV, with more to offer than just MPG excellence. Want to see how comfortable and well connected this vehicle really is?
If you live near Staten Island, Somerset, or East Brunswick, schedule a test drive at Land Rover Edison. We can get you behind the wheel of the Discovery. See this SUV in action and decide whether it's the dream ride you've been waiting for!
Schedule a test drive online here!